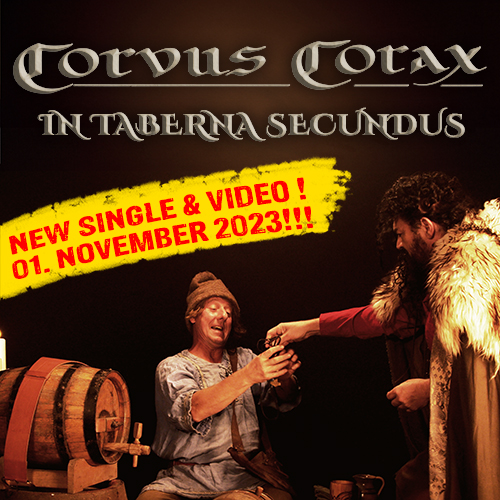 The world needs more drinking songs! In our newest track we sing about the unrestrained thirst of the minstrels, who even give their last piece for a full jug.
"In Taberna Secundus" is our first single from the new album coming out in 2024 and will get you in the right mood for our upcoming "Thousand Years of Dance Music" tour in December.
With the help of our " Innkeeper of Trust" Naseweis (you can find us at his place almost all the time, when we are not on stage in Kaltenberg) we produced a great video, which will be premiered on our Youtube page on November 1st. It was a wet and merry affair.
The single will be released the same day on all major streaming and download platforms. CLICK HERE and bookmark the song now!
And here are the tour dates for the " Thousand Years of Dance Music" tour, ticket links and more info can be found on our LIVE page.
02.12.2023 USA-Paige(TX) – Valkyrie Ranch
03.12.2023 USA-Paige(TX) – Valkyrie Ranch
15.12.2023 Berlin-Passionskirche
16.12.2023 Berlin-Passionskirche
27.12. Stuttgart-Im Wizemann
28.12.2023 Traunreut-k1
29.12.2023 Ingolstadt-Eventhalle Westpark
30.12.2023 Gersthofen-Stadthallen